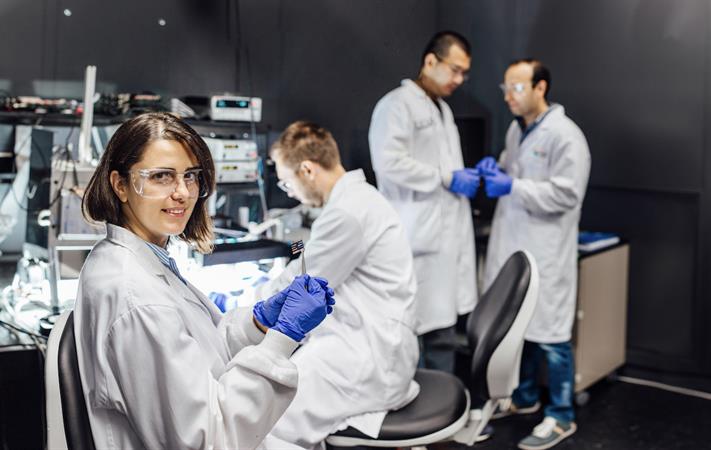 KAUST Assistant Professor Derya Baran with colleagues in the KAUST Solar Center. Photo by Anastasia Khrenova.
Originally published in Arab News, June 14, 2020
Assistant Professor of Material Science and Engineering Derya Baran has been selected as a new member of the Global Young Academy (GYA), the first member to represent a Saudi Arabian institution.
"Joining GYA was important to me, enabling me to make a change and be influential on a global scale. I think that GYA would be the perfect platform to debate and discuss ideas with like-minded, enthusiastic and dynamic members of the future," Baran said.
GYA is an international society for young scientists (under 40 years of age). The goal of the academy is to give voice to young scientists by connecting and developing talents from six continents to reduce the science gap between low, middle, and high-income countries. This year, 40 new members were selected from 30 countries to join the academy for the next five years.
For future generations
The German-based academy focuses on science and policy; the research environment; and science education and outreach; in line with the United Nations Sustainable Development Goals. GYA members believe that scientists and researchers need to contribute more than their own research findings to society.

During her five years in the GYA, Baran hopes to inspire and allow herself to be inspired and to give everyone fair opportunities and equal voices to contribute to ethical fair research. She aspires to use her position to make a change for the future generations of scientists.
"I believe most of us get into the sciences to try and create change, but not all of us are given the same platform. I have already, in my short career, seen too many great and amazing people go unrecognized or fail to achieve their potential because they were too afraid, too scared or too unsupported in their lives for higher education," Baran said.
Upon joining the GYA, Baran becomes the first scholar to represent a Saudi Arabian institution and she hopes to contribute to the building of a National Young Academy in Saudi Arabia over the next five years.
"I want to be a representative of the young scholars globally and open up new countries like Saudi Arabia – from which there are no current GYA members – and give KAUST and the Saudi educational system greater representation in the scientific world," Baran said.
Science, innovation and leadership
Her research in solar energy and the startup she co-founded called "iyris," which seeks to develop technologies to create efficient and productive buildings utilizing solar power, has made her an ambassador in her area of research.
When she first started her academic career, she thought that her scientific achievements and discoveries would be her only channel to achieve her dream.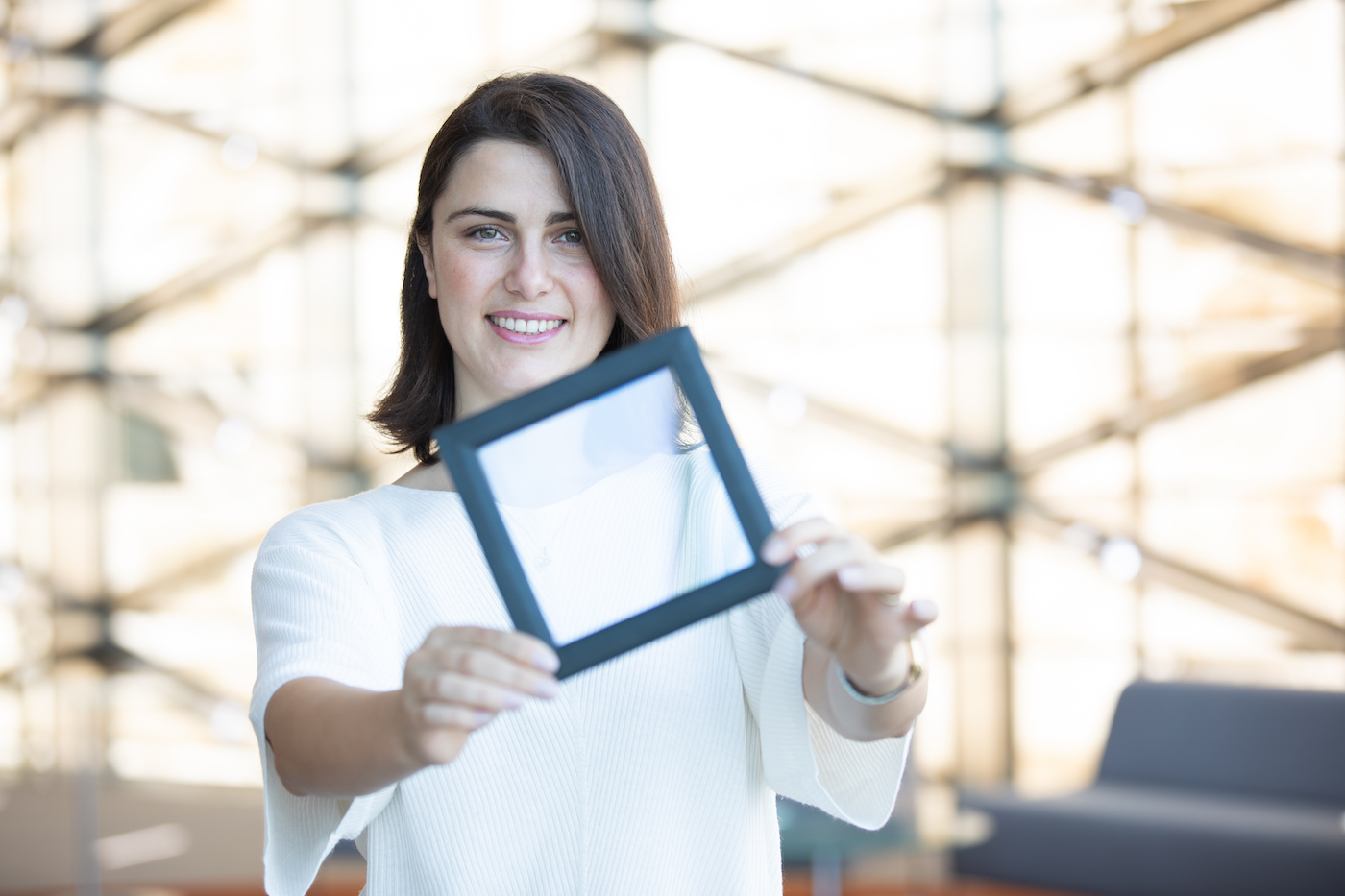 iyris Co-Founder Derya Baran holds a prototype of her teams flexible solar panels. Baran and the iyris team have created a transparent solar panel system that could reduce solar glare, while generating power using traditional windows, reducing the costs associated with air conditioning, while contributing a portion of a building's electricity needs. Photo by Sarah Munshi.
"I quickly realized that I could make changes beyond the boundaries of research and apply them within social and cultural contexts. By way of example, in 2019 I presented my views in a short talk at the World Economic Forum (WEF) in China, where I discussed my research and startup, which was a very encouraging experience," she said.
Baran advises young scientists who aspire to make a change in the world to see every obstacle as a challenge. She says that all the challenges she has encountered have kept her going and always motivated her to achieve more.
"Nelson Mandela said: 'It always seems impossible until it's done,' and I've found real truth in those words," Baran said.